ABOUT US
HISTORY
The establishment of Muzium & Galeri Tuanku Fauziah (MGTF) USM was initiated by a forward-looking vision of the first Vice-Chancelor of USM, the late Tan Sri Prof. Hamzah Sendut. The plan to establish a museum in USM was initially proposed after the establishment of the School of Humanities and the introduction of the Fine Art Programme in 1971 and 1972 respectively. USM was the first public university in Malaysia to pioneer the offering of fine art at a higher education level. Since then, numerous exhibits, works of art and collections related to the arts and culture were acquired to complement the teaching and learning at USM. A special task force committee, under the patronage of the late Tan Sri Prof. Hamzah Sendut, undertook the acquisition endeavor. The committee was lead by several prominent scholars in USM such as Lim Huck Tee, Dato' Prof. Sharom Amat and Dato' K.J. Ratnam with members from the academic staffs of the School of Humanities and the then USM Art Center.
This initial effort was later supported by the second Vice-Chancellor, the late Tun Hamdan Sheikh Tahir. As a result, paintings, silverware, keris and traditional musical instruments were purchased as a part of the effort to set up the Museum and Art Gallery. T.K. Sabapathy was appointed as the first Honorary Curator. The appointment was later complimented by the official appointment of the Museum and Gallery's first Curator in 1981, Wan Zakaria Wan Ismail who was responsible in developing the collections into a full-fledge USM Museum and Gallery as it has been known until today.
The collections were initially placed under the USM library, under the supervision of the then Head Librarian, Lim Huck Tee. The effort to obtain collections for teaching purposes was accomplished through bulk purchases from galleries in Kuala Lumpur. Concurrently, the Performing Arts Programme, under the supervision of Ghulam Sarwar Yusoff, was also acquiring exhibits such as traditional musical instruments, costumes, theater props and traditional games for the use of USM students.
The USM Museum and Art Gallery was officially opened on January 21, 1982. It was inaugurated as the Muzium & Galeri Tuanku Fauziah (MGTF) on March 19, 2007.
The campus site and area around the MGTF is a rich repository of history and heritage. It is linked to the name Bukit Tok Jannatun, in conjunction with the name of one Minangkabau explorer who was bequeathed a piece of land from Batu Uban to Gelugor by the then Sultan of Kedah around the middle of the 18th. century. It later fell into the hand of one English nobleman, David Brown. His residence on top of a hill was a source of inspiration for a painting by William Daniel in 1818. The site was later bequeathed to the British army, and named "Minden" after a town in Germany. Later, it housed the Malaysian army before finally being turned into a campus and renamed Universiti Pulau Pinang. The building that housed MGTF was used as a premise for the University Library until it was later turned and officiated as the USM Museum and Gallery in 1982. The beautiful and majestic building reflects a neo-classical style with Doric columns.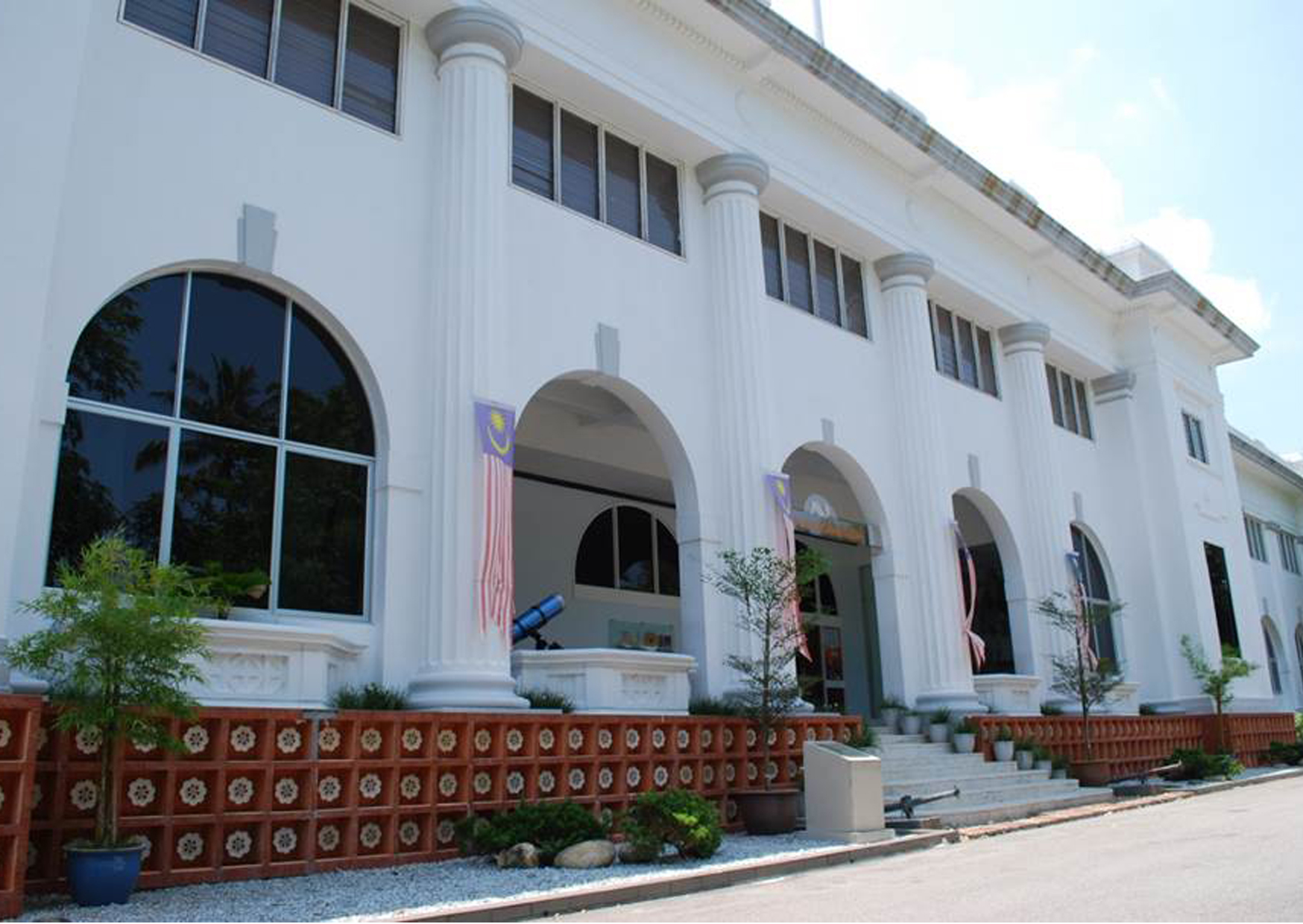 VISION & MISSION
We see Muzium & Galeri Tuanku Fauziah (MGTF) USM as a locally and internationally renowned teaching, learning and research museum, in line with the efforts to develop sustainable human talent and society.
To achieve this vision, MGTF is committed to providing a teaching, learning and research ecosystem rooted in the arts-culture and science-technology that are relevant to contemporary challenges without sacrificing shared national value and heritage.

ROLES & SERVICES
We at the Muzium & Galeri Tuanku Fauziah (MGTF) USM are committed in:
Collecting, preserving, documenting and exposing Malaysia's scientific and cultural heritage

Providing a sustainable teaching & learning space for students from USM, other universities, colleges, schools and the public at large

Providing a space for research in various disciplines of science-technology and arts-culture

Planning and organising prolific and beneficial programmes for visitors and communities
We also provide the following services:
Support of curatorial work, essay writing and publication, organising, managing, designing and installing exhibitions

Support of research work especially on USM permanent collections.

Rental of exhibition space, artworks, artifacts and museum equipment.

Support of restoration and conservation work.

Consultation on personal heritage collections.

Consultation on arts & cultural projects.
Since its inception, MGTF USM has increasingly received numerous requests for consultations, advice and services from various individuals, groups, communities, schools, government departments, private galleries and embassies of many countries. They include curatorial assignments, research and curatorial essays, publishing, lectures and paper presentations inside and outside Malaysia, appointments as a jury for art competitions, organising youth camps, courses and creative workshops for marginalised communities, exhibition tours, astronomy programs, exhibition and graphic design, residency programme and rental of artworks, equipment and space. The requests reflect increasing confidence and acknowledgment towards the quality of our services, expertise and experience. We have also established a team called U.Smart (USM Art & Tech Team) too further facilitate consultation work such as exhibition design and installation, astronomy and creativity workshop, public screening, mini concert and various forms of community-centered art and science activities.
MGTF is also within a walking distance from several important locations in USM such as the Residence of the Vice-Chancellor, Chancellory, Bilik Persidangan, Guest House, Guest House's Restaurant, Global Center for Archaeological Research, USM Field, Durian Valley and Eco-hub. MGTF's historical building is complemented by a beautiful garden and surrounded by a sustainable natural environment. The scenic view of P\enang straits and bridge is further elevated by serene chirping of various species of birds including the majestic Red Eagle. Such surrounding and view have turned MGTF into a very valuable and soulful visiting site for visitors all over the world.