ARUS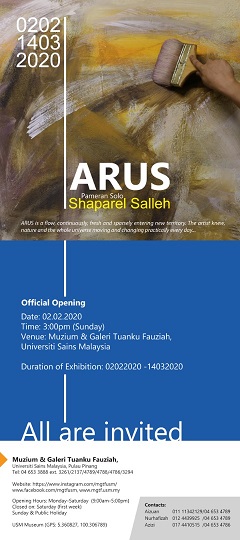 Tarikh : 2 Februari – 14 Mac 2020 | Galeri Sementara Muzium & Galeri Tuanku Fauziah (MGTF), Universiti Sains Malaysia (USM)
Dalam bidang seni halus khasnya di Pulau Pinang, Shaparel pasti tidak asing lagi, seorang artis seni yang begitu setia terhadap seni visual. Seni yang dihasilkannya disifatkan sebagai suara dalaman yang mencerminkan konflik minda dan jiwa. Sepanjang kariernya, beliau telah menyertai lebih daripada 70 pameran lokal dan antarabangsa. Catan realismenya menuntut masa dan tenaga fizikal yang jitu, hari demi hari, tahun demi tahun demi mencapai kesempurnaan dalam menggubah bentuk dan cahaya. Beliau berusaha memahirkan prinsip asas warna dalam mencari jiwanya yang sebenar.
"Imbas Umbi" merupakan satu titik perubahan perjalanan seni Shaparel dalam mencari 'bahasa' sebenar sekitar tahun 2014. Menggunakan abstrak ekpresionisma sebagai vocab dalam penerokaannya selepas berehat dari menghasilkan lukisan alam semulajadi. Abstrak ekpresionisma dicirikan oleh gerakan sapuan berus atau penandaan dan gambaran spontan. Gerakan sapuan yang spontan dan rata menjadi ciri utama ketika itu. Umbi membawa maksud akar. Ini adalah pembuka jalan beliau kepada satu lagi dimensi dalam gubahan gerakan berus, warna dan komposisi.
Beliau mengambil masa enam tahun untuk akar berkembang. Ketika ini beliau banyak merenung dan berfikir tentang kewujudan dan alam semesta. Warna-warna tebal yang berlapis-lapis menyiratkan isu-isu yang penting dalam minda dan jiwanya yang terkumpul selama bertahun. Isu politik, sosial, keagamaan, moral, kegawatan domestik dan antarabangsa secara tidak sedar ditanam di mindanya. Pada tahap ini, fokus beliau banyak terarah kepada pola pemikiran dan rasa dalaman. Kini beliau sedia menghadapi cabaran baru.
ARUS bermaksud mengalir, berterusan, segar dan memasuki teritori baru. Shaparel mengetahui bahawa seluruh alam semesta sentiasa bergerak dan berubah setiap hari. Air yang tidak mengalir akan kotor, berhabuk dan membusuk. ARUS
adalah kisah naratif perjalanan seni Shaparel menerusi lebih daripada 20 buah karya terbaru beliau yang dipamerkan di Muzium & Galeri Tuanku Fauziah, Universiti Sains Malaysia dari 2 Februari – 14 Mac 2020.
Semua dijemput hadir!
Date : 2 February – 14 March 2020
Vanue : Galeri Sementara Muzium & Galeri Tuanku Fauziah (MGTF),
Universiti Sains Malaysia (USM)
Those who are into the art scene (and behind the scene) of Penang art, Shaparel is one among prolific artist who's devoted himself to visual art. He deemed his art as an inner voice to reflects the conflict of the mind and soul. He started to paint from the beginning, held more than 70 exhibitions local and international. His realism required a so much time consuming and physical energy to continuing day by day, year by year to attain the perfection of form and light. These intense efforts of struggling with the basic and principle of color encompassing the deep psyche move searching for its true soul.
"Imbas Umbi" marked a turning point in the Shaparel's journey of searching the true 'language' that revolved around 2014. He uses abstract expressionism as his vocab to exploring his true meaning after hiatus from 'making' a picture of nature. Abstract expressionism characterized by gestural brush-strokes or mark-making and the impression of spontaneity. The surface painstakingly flat and so much thought had been put onto the canvas. Umbi literally means 'root'. That was a stage to open up to the other dimension in maneuver the gesture, color, and composition.
It took six years for 'umbi' to grow. Now his focus deeply. Pondering and meditative, through the growth of his maturity and the existence of his being in the whole universe encapsulated onto the very spontaneous gesture solemnly flow through the canvas. The thick colors blending with a layer of strokes imply the indispensable issues ingrained in his mind and soul for years. Politic, social, religious, moral, domestic and international turmoil were unconsciously rooting the mind of the artist. At this stage, the activity of transformation of thought to the visual images became less but the endeavor twirling inside. Now he's ready to accept a new challenge.
ARUS is a flow, continuously, fresh and sparsely entering new territory. The artist knew, nature and the whole universe moving and changing practically every day. Otherwise, it will get pungent and hold a speck of dirt. ARUS remarks on his long narrative of the journey. Catch more than 20 pieces of his latest masterpieces at Muzium & Galeri Tuanku Fauziah, Universiti Sains Malaysia from 2 February until 14 March 2020.
All are invited!